Could you please add a filter option that you can hide all the tasks that still have unfinished dependencies?
I use the tree view to structure projects and the list view to see only the 'next actions' at a time. For tasks that have to be processed one after the other, I am currently using a workaround by defining the predecessor as a subtask and hiding the main tasks in the list view.
Unfortunately, this does not work if multiple tasks can be processed in any order as soon as a shared requirement has been met.


In this case the list view should only show the task "Clear all furniture out of the room", since both other tasks (
paint the ceiling, remove the old wallpaper
) can only be processed after this task is completed.
Maybe there is already a way to handle this in ToDoList, which I have not found yet. In this case, I would be very grateful for a hint. Otherwise I would be a happy camper if you could add a new filter option "Hide tasks with unfinished dependencies" (for the list view):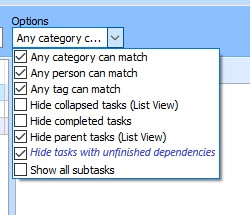 Thanks in advance for your help!